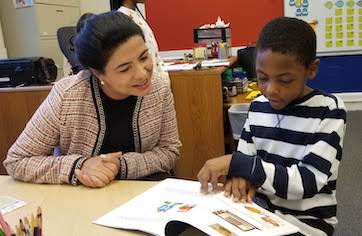 How often have you heard about an 8 year old student having a book published? Almost never, if ever, right?  Well, Amazon recently published The Story of Zachary and the Cookie by one of Manhasset's very own 3rd grade students, Avery Gray, a student at Shelter Rock.
For that matter, he almost never stops writing.  According to his mother, Tasha Pulling, she will often find him writing into the night.  Also note that she is also his inspiration and role model, since she herself is a also published author.
His idea for this story came from the Arnie and the Donut book. The story completely captured his imagination. He was totally fascinated. Always conceptualizing, he just had to write this story about Zachary and the cookie. In addition, he opted to include pages with various cartoon type figures for coloring. He liked the idea about adding these "extras".
At Shelter Rock, Avery likes reading, spelling, writing, science and music.  He also attends Adventures in Learning, the afterschool program at the EOC on High Street. Avery loves Adventures because it allows him time to do homework, and, what else?  Write!
Recently, New York State Senator-Elect Anna Kaplan visited Adventures and met Avery.  They sat down together and he read passages from his book to her.  She was very impressed.  "First of all, Avery is such a wonderful boy.  His creativity is impressive, but even more so was his commitment to have his book published. It is so important for children to follow their dreams."
Diana Holden, Executive Director of Adventures in Learning, noted that "everyone at Adventures is thrilled for Avery.  The atmosphere at Adventures fosters creativity as Avery has shown.  We are so proud of him and look forward to his next publication."
You can check Avery's book out on Amazon.
Founded 50 years ago by the Congregational Church in Manhasset, Adventures in Learning is a 501(c)3 nonprofit organization.  This after-school program is located on the third floor of the Hagedorn Community Center in the Manhasset/Great Neck EOC building at 65 High Street, Manhasset.  Most particularly, it is dedicated to improving the lives of children in Manhasset and Great Neck in need of after school care and instruction.
For further information, contact:
Diana Holden: 516-318-1345 or Eleanor Lange: 516-627-1818