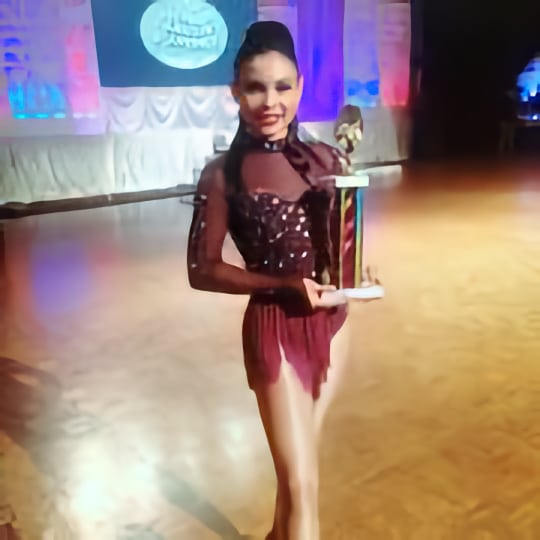 Michelle Cano, a student at Manhasset Middle School, has established herself as a major competitor at various Latin dance competitions.  With her dance teammates – Genelle, Stephanie, Melanie, Karen, Isabella, Gabriela, Sabina and Katherine – she recently won first place in the Salsa Junior Division at the World Salsa Summit 2017, one of the largest Latin dance competitions in the world.  It was held at the Miami Deauville Beach Resort Hotel on January 21st of this year.  Her team represented New York and the Mestizo Art Center, where she trains.
Medals keep piling up for Michelle and her teammates from one competition to the next.  It should be noted that not only is it their talent, but their dedication, practice and rehearsal that has made them so successful. Last October, Michelle and her team won first place in the Long Island Latin dance competition called "Fire in the Feet".  While two years ago, Michelle and her team participated in the World Latin Dance Cup 2015/2016 and won first place in the World Champions of Salsa.
Michelle has been a student at Adventures in Learning, as well.  Diana Holden, Executive Director of Adventures, praised Michelle and her team.  "Everyone at Adventures is thrilled for Michelle.  There is no doubt that she is both an inspiring and magnificent representative of the Manhasset School District, Adventures, and, most especially, our community.  What an enormous accomplishment for Michelle and her team, and we send them our congratulations.  They certainly have earned a standing ovation! Bravo!"
Founded 48 years ago, Adventures in Learning is an after-school education and enrichment program, located in the Hagedorn Community Center at the Great Neck/Manhasset EOC building at 65 High Street, Manhasset, dedicated to improving the lives of children in need of after-school care and instruction.
For further information, contact:
Diana Holden: 516-318-1345 or Eleanor Lange: 516-627-1818